PUBLICATION DATE 28th AUGUST 2010
The Naturals is now available online and in all good bookshops.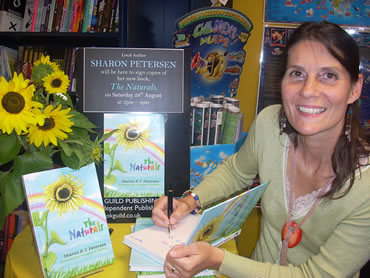 WHERE THE NATURALS WILL BE!
BBC Radio Solent
Julian Clegg's Breakfast Show
Tuesday 22nd May
The Dragon Race
at Chichester Canal
Sunday 10th June
West Sussex
The Garden Show
at Stansted Park
15th - 17th June
Rolands Castle, Hampshire
Rowlands Catle Village Fair
11am to 4pm
Sat 7th July
Rolands Castle, Hampshire
Rowans Hospice Summer Fete
Sun 22nd July
Purbrook, Hampshire
WHERE TO BUY
THE NATURALS
From this website and all good bookshops. (Just give the ISBN No. 9781846243400 - and they will order it for you!)
RECOMMENDATION by Hampshire County Council Children's Services Department
"Your book, "The Naturals" ...fits in well with all the emotional literacy work that we do. .. As a manager of a group of psychologists...I will be happy to encourage them to share your book with the ELSAs" (Emotional Literacy Support Assistants)
Jeanie Low Ying
Area Principal Educational Psychologist
WHAT THE CHILDREN SAY...
'The Naturals has taught me that everything happens for a reason.' Katherine, age 7. 'Be grateful for the weather we get, even if we think that we are not lucky.' Lucy, age 7. 'I've learnt from The Naturals that the world is nice to us.' Charlotte, age 7. 'The Naturals has taught me to be nice to the world because the world only wants to be good to me.' Ffyn, age 7. 'The Story of Earth has taught me that you don't always have to grow from Earth to be a big plant.' Charlotte, age 7.